Hey all, I thought I would try to gather all the Taiko players over here on the West Coast (USA). I think there is actually only one other member right now.
Well uh, I wanted to possible form a group for going to west coast anime and video game conventions so we can promote
. Sakuracon is coming up. It's April 10th-12th in Seattle, Washington. I am going to try to convince Sachi to come and help me set up 4 Taiko drums on 2 PS2's. If I can find some more West Coasters to help then we could consider having a Taiko panel. There we could promote the forum and premiere the Simulator that I'm almost ready to release. Then possible give out merchandise and get new-commers hooked on Taiko.
But I would also like to hear from everyone else on ways to promote Taiko and this forum at this convention. The least that I will do is set up a PS2 with Taiko and have a poster or something about Taiko and the Dojo.

Pyrozz

Head of Simulation Development






Flyers. And a taikodojo T-shirt. with a taikodojo wristband and taiko dojo shoes, with taikodojo pants and taiko dojo temporary tattoos and taiko dojo socks and taiko dojo contact lenses and taikodojo mascara with taikodojo lipstick taikodojo blusher taikodojo fake eyebrows taikodojo earrings taikodojo rings taikodojo everythings. (:

Sorry most mentioned are not very realistic but oh well.

HareHareYukai

修行中






Flyers would be your main choice here since they're a cheap form of advertisement.

You could set up a laptop there, linking it to the forums, and having people to sign up on the spot. That could work as well.

Like BLYX said, Tatoos and Wristbands. Those are not really expensive and could be good as well. Maybe give them out to people who tries the game out or register in the forums there?

Why not put up a real Taiko drum with Don and Kat (those plush toys?) standing on it? For promoting, you could get a Don or Kat mascot walking around giving flyers. They're cute, and can attract people who like cute stuffs.

Besides PS2, there are still the NDS and PSP versions, and you might want to consider adding them in as well, provided you have the consoles and games ready.

For the people helping out in this convention, they could probably wear a T-shirt related to Taiko no Tatsujin. Like a shirt printed with the words on it, or some of the mascots and characters from the game itself.

Giazenshia

半人前






My suggestion might require some $$$.
Maybe you guys can wear something similar to the Taiko attire that the traditional players wear, like this: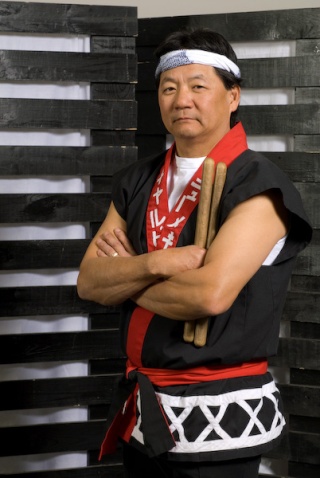 (Sorry I can't seem to be able to downsize the picture!)
Then maybe do some DIY to the vest, like paint don and kat onto the back or something.
I think Gias's suggestion about having a laptop there for people to visit the forum is a good idea too
They can also watch youtube videos of people enjoying Taiko worldwide!

Mint

見習い






Haha, like this?
http://photos-e.ak.fbcdn.net/photos-ak-sf2p/v647/231/86/1369355263/n1369355263_30193196_7284.jpg
http://photos-f.ak.fbcdn.net/photos-ak-sf2p/v647/231/86/1369355263/n1369355263_30193197_7638.jpg
I like all these ideas. Tattoos and stickers would be great. That costume is me, btw.

Pyrozz

Head of Simulation Development






Pyrozz, you're making me wanna get and print taiko dojo t-shirt
xD

_________________
Year 2012, I still love my kapibaras
TaikoDojo will Survive!! somehow.. in its own unique ways..


I worship the book of Diagnostic and Statistical Manual of Mental Disorders.... and Kapibara Plushies xD

yuu_yuki

Moderator






Yes yes! That's what I mean!!! That's so cool!!! Although I would get don and kat plushies and stick them over my costume

Mint

見習い






Similar topics
---
Permissions in this forum:
You
cannot
reply to topics in this forum